Did you miss me? My site wasn't feeling well. It is not clear to me if it was hacked or if my internet hosts disabled stuff that looked hackalicious or hack-adjacent or . . . what. It happened about two weeks ago, but first I was trying very hard to fix it myself and failing, and then I asked my much-more-tech-capable friend B, but B was busy doing technical work for people who actually pay him, plus I was away on vacation for a week, and so it took some time.
But here I am! And I am going to be a teensy bit lazy and just share the blog post that I was writing when things All Went Terribly Awry, and then of course there will be more to catch up on later.
~~~~~~~~
I tried to publish this post on Saturday night, but my site was being whackadoodle. First it told me that it couldn't update my draft, then it said that even though I'd hit "Publish" it couldn't actually publish, and when I gave up and came back later, I got an "access denied" message [like whatever y'all probably saw when you tried to visit].
Well, that's not helpful.
So now it's Sunday night, and school is almost over, and not a minute too soon. [This was back on June 23, and I'm very glad to be done now.]
J's last day will be Monday. It's just a half day, and then it's followed by a Moving Up Day ceremony and a dance. And then she is done with middle school. Our family will be done with middle school. Hooray. [J had fun. And she's glad it's all done.]
M, meanwhile, has two last finals: Spanish on Monday and chemistry on Tuesday. She's not worried about Spanish at all, but she's been studying like crazy for chemistry, which means that my living room floor currently looks like this [Her Spanish test was perfection. The chem test was not perfection, but it wasn't bad.]: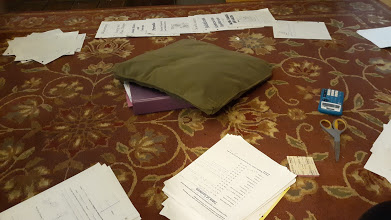 This is a risky choice M's making, because our kitties like to eat paper. But she's living dangerously. [They did, in fact, eat portions of some of these papers. Don't say I didn't warn her.]
Besides studying, M had a ton of soccer this weekend. She had the Mad Dog Mania College Showcase Tournament in Saratoga Springs. She played in this tournament last year, as well, but it was a very different experience this year, because our team is pretty strong and it's almost all juniors. That means that we saw tons and tons of college coaches.
It's unnerving. When people are watching your kids intently with a clipboard, it's hard not to feel nervous, even if the coaches are from some college that you don't care about (and sometimes they try to stay incognito, so you don't know). This felt especially bad on Saturday afternoon, when the team wasn't playing their best and it just felt like there were tons of coaches everywhere you looked. It was a bit quieter on Sunday, when of course the girls were playing better. The last game was super-fun to watch, and M played especially well. Altogether they had 3 wins and 1 tie, which isn't bad for the weekend.
J came along with us on Sunday after M pointed out that she'd watched more volleyball than J had watched soccer, and it was very nice of her, especially since we picked her up at 6:25 am from a sleepover. She cheered wildly when M took a ball waaaaay up the field and assisted with a goal.
On Saturday we tried a place that was new to us, Triangle Diner. M and I had made-to-order omelettes, which we really liked, although we wished the hash browns were a bit crispier.
Cute W chose a special, a sandwich that involved bacon and goat cheese and apricot jam. He liked it very much. And the service was excellent.
On Sunday we visited a reliable favorite, Mrs. London's Bakery, where three out of four of us enjoyed quiches and J picked the only sandwich that didn't, as she put it, "involve lemon mayonnaise." And an almond croissant, of course.
In spite of multiple applications of sunscreen, I'm still feeling pretty crispy after all that socccer sunshine. M's showered up and is hovering over her piles of papers in the living room again.