Happy end-of-February-break, everyone! I trust that you survived our brief foray into winter with super-cold temperatures. We missed it entirely, since we went to Savannah. Why yes, we drove all the way down. Fourteen hours with no stops, except of course there were stops. We left right after school on Thursday and stayed at a hotel overnight. It was a nice enough hotel, except we were a little surprised by these notes:
Uhhh. . . thank you, I guess? Thanks for offering us clean sheets? Like, I'm supposed to particularly appreciate this? Because I don't. Although I'm considering leaving a Post-It on the night stand at my house from now on every time I clean the sheets. Apparently I deserve some credit for my efforts.
Anyway, we made it by Friday afternoon, We were visiting my parents, sisters, and their families and going to the Savannah Book Festival. You know that I was binge-reading and pushing books on the girls ahead of time, but I wasn't sure how a day full of sitting still and listening to people would go for the whole family. But it did go well. We saw some interesting and fun speakers, and it was great to have three generations all chatting about all sorts of things that would never otherwise occur to us, besides the usual how's-school-going chit-chat.
We also visited Fort Pulaski and Wormsloe Historic Site.
We walked around and shopped. One of our favorite stops is always the Savannah Bee Company, and a brand-new favorite was Civvies, a new & recycled clothing shop, where the girls each chose a Valentine's Day treat. J picked a necklace shaped like a fan with a little clock in it, and M chose some old-school rollerskates, which she proceeded to try out on the streets of Savannah.
We ate barbecue and crab cakes (both girls tried and like crab cakes! score!), and the girls and their cousin even went wading in the ocean at Tybee Island, in spite of the nippy 50s weather.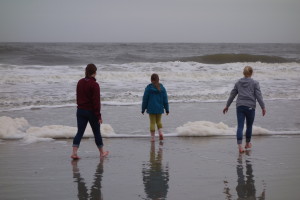 The girls also loved riding around on the golf cart with their cousins. Our most relaxing afternoon turned out to be a little stressful for me when M lost track of her phone and ended up dragging her cousin around looking for it, then J split her pants (in fairness, they were old, cheap, and almost outgrown–oh, I just realized that they're the pants I described as her favorite recently, and she wore them to the beach, above) and we had to come up with a way for it not to be obvious to the general public, and then in the process of preparing my Kale Salad I added an unexpected ingredient:
Okay, it's not as satisfyingly obvious as I'd hoped, but I chopped off the outer tip of my index finger, nail and all. Um, yuck. We never found any nail or flesh, but it absolutely put at least one person off of having any salad at all, which is too bad, because it's a good salad. After I cut myself I just stood there for a minute, a little bit stunned. You guys, I'm never getting that little piece of my finger back. Luckily, we'd just seen quadruple-amputee Travis Mills at the Book Festival, which is helpful for a little perspective.
Anyway, all in all we had a ton of fun and finished with a marathon one-day drive home, including a barbecue stop and a brief, freak white-out of snow during one of the few hours when I was relieving Cute W behind the wheel. I promptly pulled over to switch again.
And we're in recovery mode now, but more about that later.