Recently we embarked on a bit of a religious education enrichment program at home. There was some volunteering, there was some research, there was. . . not a tremendous amount of follow-up. I should really get back to that sometime soon, I know.
But the one unquestionably successful portion of the religious education program was the day we ate latkes and watched Fiddler on the Roof. The girls, having hooted disdainfully through the animated Prince of Egypt on a previous occasion, rolled their eyes when I announced another film viewing. But they found themselves captivated by Tevye's daughters in spite of themselves and were singing "Matchmaker" for days afterward.
But the greatest long-term impact of this cultural exposure was the triumph of my homemade latkes. I used this perhaps-not-super-authentic recipe, and they were tast-tee.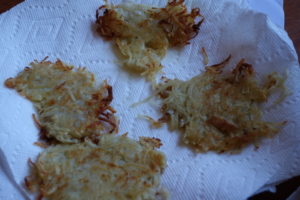 These probably needed a little more crisping up. But, anyway, latkes have become one of J's very favorite things to eat. With applesauce.
It's been a relatively uneventful spring break. Grandma  and Grandpa visited over the first weekend. There's been soccer and gymnastics, M went to a sleepover and to the Mystery Room at Crossgates, and J is river rafting today. Cute W is working this weekend, and between hosting guests and the girls not at school on school days and Cute W going to work on the weekends, we're all a little disoriented. I'm ready to get back to the routine and knock out the end of the school year, pronto.