It was Easter Sunday, so the Easter Bunny paid our visit to our hotel room.
We took a fairly long walk to breakfast, following Yelp's recommendations to Cafe La Maude, where, they say, "It's brunch all day."
We ordered together and split everything: A Genovese Omelette (goat cheese, apple, walnut, chicken sausage, tomato, & avocado), Nutella French Toast, and Gaufre Chicken Cordon Beu Waffles
Everything was super-yummy and the staff were friendly.
On our walk home we had a chance to see the ongoing setup for the Chinese Lantern Festival in Franklin Square. We'd had a vague notion that Franklin Square was a nice park to walk through along the way, but eh crazy-elaborate decor was a surprise, and J was psyched. We took a bunch of pictures and managed to lose them all–sorry!
From there it was time to check out of the hotel and travel to meet up with family at my sister's house in New Jersey.
Along the way, we stopped at Morris Arboretum. It was along our way, anyway, and you may remember that J's always been a lover of trees.
It was lovely. In fact, we pretty much lost all track of time exploring the tree canopy walk as well as gardens and pathways all over the place. If you like trains, here's a section where they run model trains all around and over rustic bridges during the summer time.
There was a Stickwork Sculpture that was much better in person than how it looked online. It's a maze-like structure that J loved exploring and plenty of kids seemed like they'd happily never leave.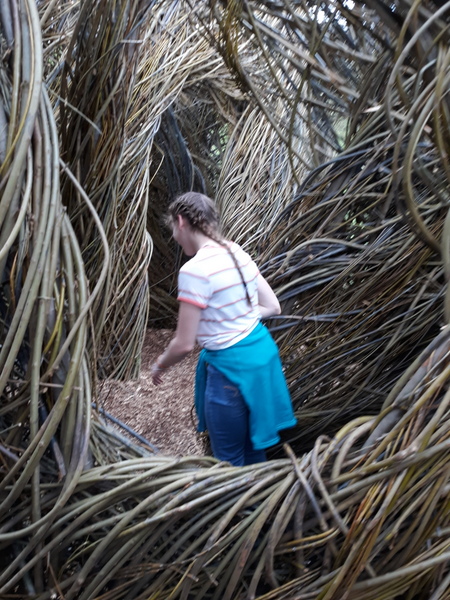 We'd expected to stay at the arboretum for about an hour and a half, but I think we were there for well over two hours, and if we hadn't realized that we were officially late, we could have lingered a while longer.