The academic year has gone out with a whimper. Honestly, I've been a little bitter about it. As April shifted into May, I was advocating for possible celebratory ideas to try to make the end of the year more fun and keep the kids occupied, and long rant short, the school district and PTO weren't into it.
So I gave up, and Cute W and I ordered a ridiculous banner for the front yard. By the time this graduation week rolled around, we were all sort of ready to be over it already. Which is a bummer, but at least it meant that our expectations were very, very low.
This week, to substitute for a more "normal" graduation for M, we had three graduation events: a drive-up-to-walk-across-the-stage-and-get-your-diploma event, a visit to the drive-in movie theater to watch the graduation ceremony, and a town parade.
Here we are driving up for the diploma hand-off.
It took us almost an hour to drive in one entrance of the high school, snake our way through the parking lots in a long line of traffic. Was it awesome? Cute W and I sure thought so!
No, not really. We were in pretty good spirits for the 45 minutes or so of standing in traffic. We were fortunate that the weather was lovely and it wasn't too hot. The actual diploma hand-off situation was pretty high-stress. In that first photo, we were approaching a tent where they gave M a mask and a little gift pack, and then our instructions were to let her out of the car to line up in a socially-distanced way, while we were supposed to drive around the circle, park, and get out to take a photo of her receiving her diploma. There were some teachers watching along the right to cheer the kids on, but it was impossible to focus and see exactly who was who behind their masks because we were so busy trying to orient ourselves and figure out what was going on at the stage to our left. And also not run anyone over or rear end anybody. After we'd dropped M and we were driving as instructed, a friend ran up to us and told Cute W, "you've got to get out of the car now if you want to take pictures–they're going too fast!" So then it was more chaos as Cute W ran out of the car and I ran around to drive the car and then I realized that he had the only key, so I had to chase him down and run back to the car to move forward and park before jumping out of the car to watch her walk across. It was honestly super-depressing and sad. And then other people were parking and hanging out to cheer for the people walking across the stage after them, which I thought could be fun, just to try to savor the moment that we'd totally rushed through, but M just wanted to leave. You can see more pictures from this event here.
The good news is that the drive-in event was actually much more fun than I'd anticipated.
I totally just stole this picture from a friend.
We coordinated with a few friends so that we were parked next to each other, and then another set of good friends was nearby. Prior to the event, we'd been told that we would need to remain in our cars with only two lawn chairs allowed outside of each vehicle. I was fretting about this in particular because J and I had spent quite a bit of time on an elaborate scheme to decorate the interior of our car to make it a lovely wonderland. I wish that there great pictures of this to share, but it was kind of a you-had-to-be-there thing. We draped the interior of the back with a sheet festooned with photo collages and battery-powered fairy lights, lined the surfaces with blankets and pillows, and prepared a snack tray. It was a project. And I was afraid that when I got out of the car to set this up, someone would be shooing me back into the shotgun seat.
Luckily, it wasn't nearly that rigid, and we were even able to walk around and chat with people. Yes, we were socially distancing and wearing masks, but it was still one of the most social things we've done in a long, long time. Everyone who might normally speak a little too long in their speeches kept it very short and we had a slideshow of students through the years instead, which was lovely to watch. Here's a prom picture of M and her friends on the big screen:
I totally stole this drive-in photos from that same friend, too.
Each kid could submit a photo, some words, and a 10-second video if they wanted. M skipped the video, but here's her photo/text moment:
We were so lucky with the weather–it kept threatening to rain and then stopping–and the girls had a chance to see friends, but then they enjoyed watching the program together from the car. Cute W and I shared our camp loveseat and only cried a little bit. I especially loved the slideshow of old photos, because I've know so many of those kids for 15, 16, 17 years that even if M wasn't friends with them, I had fond memories from moms' group and nursery school and soccer and elementary school. It was lovely to celebrate them and I wish I could have seen all their moms and given them hugs.
Saturday was the parade. Our expectations were low for that one–it was only announced recently, and the weather was rainy. It turns out that the parade wasn't planned by the school or the PTO, but some parents who were apparently as frustrated as I'd been early on. We ordered a banner, they went to the town about planning a parade. Graduates and their families drove in their cars past well-wishers, and some folks had decorated the route for the occasion. Our car was already festively decorated from Thursday, and we added a bunch of balloons that we'd blown up in the house.
The parade was both a good effort and vaguely depressing. But that's what we expected, and as Cute W always says, "Happiness is about managing expectations." We womenfolk kind of hate it when he says that, because he seems to be saying we should just lower our expectations. But in this case it was entirely appropriate.
And finally, because M is now a full-fledged adult and we're already sporting a massive banner of her in the front lawn, here's a first for this blog: a current photo that includes her face.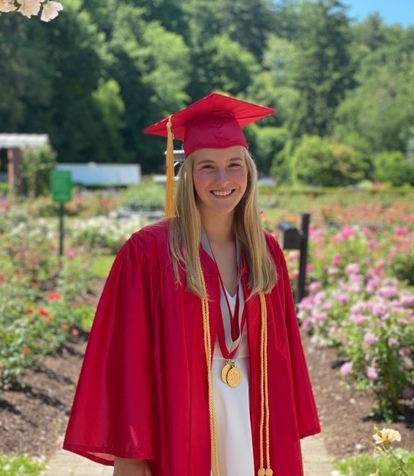 And some shameless bragging: she's sporting a medal for academic excellence and another for general excellence, and she was also one of two students at her high school who won an Excellence in Leadership award from her athletic section (fun fact: the other winner was her prom date). She is thoughtful and self-motivated and funny and kind and hard working, and we are super proud of our Maddie.