Cute W had a conference in Washington, DC, and since I am an empty nester who works entirely online, I came along for the ride. We left on Thursday, my birthday, and arrived in time for a late birthday dinner at Baan Siam. I had made a careful study of the most highly recommended dishes on Yelp, and we happily wolfed down golden pockets, fried mushrooms, and a mango salad as appetizers and we thought we were doing so well, but then we hit a wall and couldn't manage to eat nearly as much of our main courses as we wanted to.
Which was a shame, because while I liked the khao soi with chicken, I thought the Thai vermicelli in spicy peanut sauce was phenomenal. It broke my heart not to eat it all, and of course one of the bummers about traveling is that doggy bags are inconvenient.
We should have stopped there, but so many Yelpers had waxed rhapsodic about the coconut ice cream and mango sticky rice that we figured, hey, it's my birthday and we won't be back here anytime soon — let's just get them so that we can try them. But of course they were so good — literally my favorite sticky rice, ever, and the coconut ice cream was unbelievable, too — that we ate it all and groaned as we walked all the way back to our hotel.
So: very, very good.
On Friday, Cute W had some breakfast and then headed to the National Gallery of Art, which I don't think I've ever visited. There are just so many museums in DC, and when you're running around with little kids, a basic art museum doesn't have quite the bells and whistles that call out to them. But I love me an art museum! Especially when you're surprised by some old favorites that you didn't realize were in the museum, like Fragonard's A Young Girl Reading and Monet's The Artists Garden At Vetheuil.
Oh, and I was wholly unfamiliar with this one by Vuillard, Place Vintimille, but I loved the story of it. A wealthy American woman who lived in Paris commissioned a five-panel screen for her apartment. I am just a little bit crazy about late 1800s-early 1900s Paris, and so the idea of being someone who has a fabulous apartment in Paris (I am pretty sure that her apartment was fabulous) is already a fantasy. And then to live in a time in which, when you need to divide a room up, you don't, I don't know, order something functional from Target or Ikea but instead commission an artwork that will later end up in a major museum. . . well, that's just cool.
Anyway, somewhere during the visit, Cute W had to leave me and actually participate in his conference, and I thought I was almost done, but then I just kept finding more stuff that kept me at the museum. I landed in sculptures and found one I hadn't seen by Rodin and a whole recital's worth of Degas ballet girls, and, my favorite surprise at all, they have the complete set of little caricature busts by Daumier, an old favorite of mine from visiting the Musee d'Orsay when I was in Paris for a college semester abroad. I have always just loved these, so it felt like finding old friends, plus the pure perfection of having these images of often corrupt or idiotic parliamentarians "living" in DC felt extraordinarily appropiate.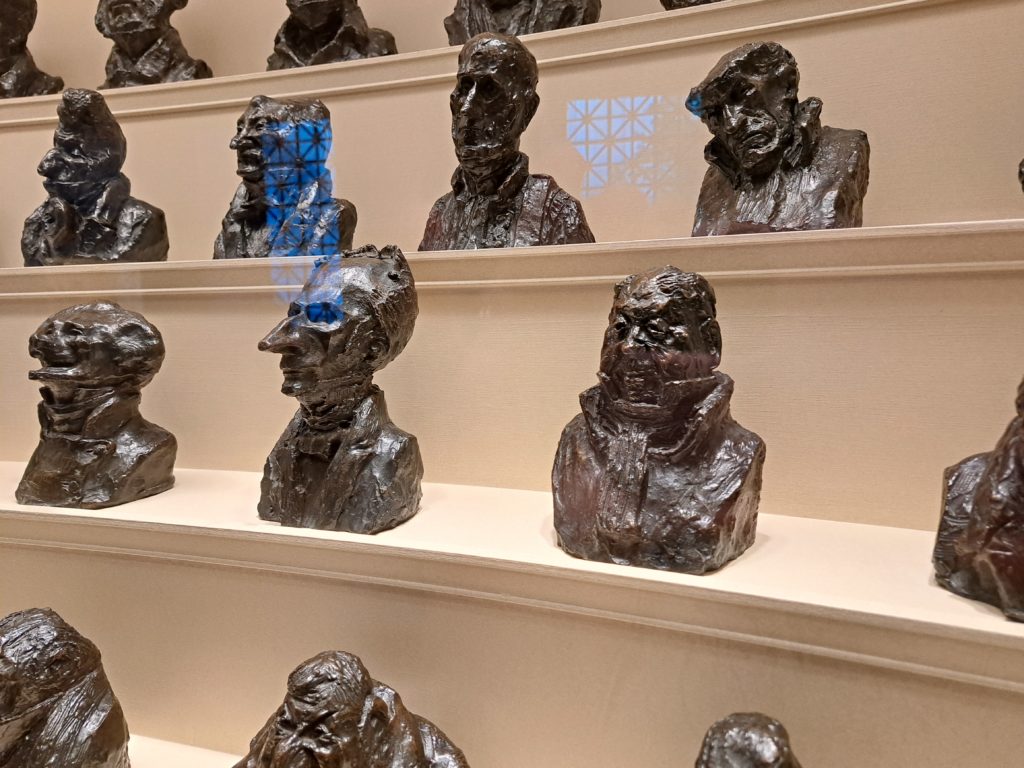 I finally made my way outside the museum and headed to the outdoor sculpture garden, although I've gotta say: I have way more appreciation for the 19th century and early 20th century sculptures than the more modern stuff I found there. But the weather was fantastic, so after stopping off for a quick bite to eat, I decided to head to the United States Botanic Garden, where I could check exhibits while continuing to enjoy the fall splendor.
I'd visited the Botanic Garden before when the girls were little, and I distinctly remember thinking they did a great job for kids, with exhibits that included "smell me" samples that they loved. It also includes a children garden where kids can plant actual plants in actual soil and some sprinkler action for hot days. This time I loved walking the various pathways outside, where there were little nooks and crannies for people to linger in. I especially liked one table with a long view of a walkway in one direction and the sound of the burbling fountain coming from another direction, but there were so many visitors that I couldn't catch a view without random strangers. It was a bit quieter here:
That Friday night we met with friends from college at Ambar where we had "The Balkan Experience" in which they just keep bringing out small plates of food until you cry uncle. We were already begging them to stop bringing us food when the waitress swore she'd stop after we got a chance to try the mussels, which seemed to be essentially cream and capers. Luckily, I like all three. I did become a bit gun shy after trying some lamb. I just don't like lamb, ever, and after accidentally getting a mouthful that I could not bring myself to swallow, I was wary of anything that could possibly contain any kind of meat. I did, however, love my cocktail, which was a delightful sparkling wine-rum-raspberry puree concoction.
For Saturday, Cute W had to go hang with attorneys while I headed to the Smithsonian's National Museum of American History. I'd been there before, but I love me some history. They had an exhibit on Girlhood, which was fun, although as a feminist mom of two daughters, I'm pretty plugged in to all things girlhood already. One thing that really struck me was how educating girls was so tied to what society wanted girls to do (like teaching Native American girls to conform, teaching Black girls to be housekeepers, and teaching all girls to be housewives). But there were also plenty of fun things, too, like exhibits of embarrassing early "sanitary care" products and more contemporary "girl power" stuff that was familiar, but still fun enough to memorialize with a picture.
I was a big fan of Within These Walls, an exhibit that followed various ordinary citizens who'd all lived in the same home over the years. The assortment included wealthy colonials, an abolitionist, a slave, and immigrant laborers, so it hit many major topics in American history.
One thing that seemed a little weird to me was that there were a few really big open spaces that were left as sort of lounges, and I was like, okay, how about some exhibits, though? I was particularly irritated to see the Greensboro Lunch Counter kind of plopped in the middle of nowhere, with not a lot of context or fanfare.
Then, later, Cute W and I were speculating that maybe a lot of the exhibits had been moved into the brand-new National Museum of African American History and Culture, the museum that we'd visited on our last trip to D.C. I meant to write about that before and I never got around to it. It is terrific. It is also fairly huge and jam-packed with exhibits and information, so much so that a single day visit feels insufficient. Along with all of the various temporary exhibitions, there are two main sections of that museum: the lower section, which focuses on history and heritage, and the upper section, which focuses on culture and community. When we visited the NMAAHC, the very enthusiastic docent who handed us a map suggested started at the lower section, which contained a lot of heaviness in the form of the history of slavery and racism, then taking a break to process and eat lunch before heading to the upper, more fun/celebratory sections. I think that that was good advice, except that there was so much history that it could not be contained in a morning, and it was packed with information that I hadn't learned before, like the different societies and governments in Africa from which many slaves were taken and other history about Reconstruction and Jim Crow that usually aren't covered too much in school. And when I say that the place was jammed with information, it was literally more information than a person could take in, like when sometimes the wall pattern was actually print with details about specific individuals because there were so many who deserve to be named and remembered. It was really incredible.
So, even though I remember loving my visit to the National Museum of American History with the girls years before, by comparison, it now felt a bit more basic and outdated. Still great for kids, but maybe not so great for me. Of course I did go to graduate school in history, so I guess I'm not really the target audience, anyway.
Partway through my museum visit, Cute W texted to alert me that M's soccer game was happening earlier than we'd thought. One post-pandemic innovation is that basically all of the colleges livestream their athletic contests, and while it's not nearly as good as watching in person, we still watch. So I ended up using one of those big, empty lounge areas to settle in and watching teensy-tiny college women play on the field on my phone. They won, so: yay. I may or may not have cheered out loud a couple of times.
Once the game ended, I headed to District Taco to meet Cute W for a late lunch, since he was done for the afternoon. This was super-tasty: I had a chicken burrito bowl much like my normal Chipotle order, but I thought the chicken was especially good, as was the side of guacamole.
Next, we headed to the National Portrait Gallery. We were originally lured by the prospect of seeing the new Barack and Michelle portraits, but sadly, these are still touring around the country. Still, I enjoyed seeing the other presidents, and it was especially interesting seeing how the exhibitors would sum up each president's tenure in a quick two or three sentences. I was also a huge fan of the Outwin Portrait Competition exhibition. I can get a little lost with modern art, but when the pieces are focused on something as concrete as a portrait, well, it's just a little easier to gain an entry point to keep looking. I took pictures of some of my favorites of these, too, except that I'm not sharing them because if any of these artists can get money on reproductions or whatever, I don't want to stand in their way. But you should click over to look, or better yet, go for a visit. I kept looking, and looking, until eventually Cute W had to come back and find me, and at that point we were both pretty museum'd out.
That night, Cute W had a conference dinner that I had zero interest in attending, and in fact, I fell asleep shortly after arriving back at the hotel room. Which meant that I woke up at about 7:40 pm in a lovely warm bed in a dark hotel room with the tragic realization that I had no dinner. Sure, some people might order room service, but I'm way too cheap for that, and I guess that I could have asked at the front desk for delivery menus, but instead, I just stumbled outside and followed Yelp to Seoul Spice, where I picked up a delicious bowl of "Korean Comfort Food" and brought it back to the hotel to eat it while watching cable TV.
On Sunday morning, Cute W had one last meeting while I stayed in the hotel room in my pajamas scheduling birthday newsletters on KidsOutAndAbout with Legally Blonde 2 followed by Legally Blonde (why this order? I don't know) to keep me company. I managed to finish my very last task with just enough time to pack before Cute W arrived for check out. We were out of the room with two minutes to spare, but sadly before I got the chance to watch them bend and snap.