I spent the day avoiding the rain and ignoring the basement. Instead, I went into Summer Planning Mode. We're going to have some serious fun this summer.
We're starting off right with another week in Lake Placid! We are so excited. There was a bit of drama involved. First we thought that we wouldn't be able to get the house again, because we thought that it wouldn't be available for a week.  We mourned and became resigned, only to find out that that it was available! Hooray! Then there was the auction itself (this was offered for a church fundraising auction event). We put in our bid and then Cute W got up and announced to everyone that there were leeches and M started calling out that one of the boats leaked. We were causing a scene. But we won. Then it turns out our friends couldn't come join us. . . which was sad. But then we found out that some of our cousins can join us, so now we're happy. More than happy. When I told the girls, they shrieked with joy and all the blood rushed to their faces in an alarming manner. So, we're psyched.
After Lake Placid, town camp starts. It's every morning from 9 am to noon for five weeks. At a cost of $25 per child per week. For those of you keeping score, that's $1.67 per hour. Yeah, baby! Sure, sure, sure. . . they won't be conducting experiments in a lab or learning how to do tricks on a trapeze, but the girls love hanging out with friends and especially the big-kid counselors. And every afternoon, we're likely to report to the pool for some chill-axing: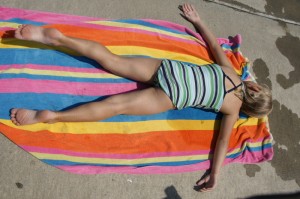 At the end of town camp, we're voyaging beyond the comfort zone. M is going to do a week of sleep-away camp at Wa Wa Segowea in the Berkshires. It's a Y camp that's smaller (and less expensive!) than Chingachgook. M is unbelievably excited. I'm impressed by her bravery. Not that I'm telling her: I'm afraid that would scare her.
I was a little concerned that J was going to be horribly sad and lonesome without her big sister M, so she's going to be an adventuress, too, and go to a Girl Scouts Day Camp with her BFF during that week. After all of that fun, we'll take a week to recover and do some more lounging:
You would think that that's plenty, but we ended up as the high bidders at our nursery school auction on deeply discounted summer camp with TSL Adventures. Cute W and I were surprised with that one, and I wasn't sure that the girls would be interested. But one of the weeks in August has a theme of Myths and Legends, which is an excellent fit, because M's all about Percy Jackson lately, and J's always been a fan of fairy tales and folklore.  I mentioned it, thinking that, with all of our other plans, I could always offer the gift certificates as giveaways on the blog if the girls were lukewarm about it. But they thought it sounded great. So they'll have one more week of camp, followed by another week of slobbing about.
And, no: I'm not offering a photo of myself sprawled out by the pool. You don't want to see that.