On Saturday I helped out with our annual Homemade Holidays program at church. Grown-ups made wreaths and there were plenty of simple-but fun crafts for everyone. Kids loved squeezing glitter paint onto glass balls.
Glue and glitter made pinecones extra-special, and little circles of pipe cleaner made cute little stands.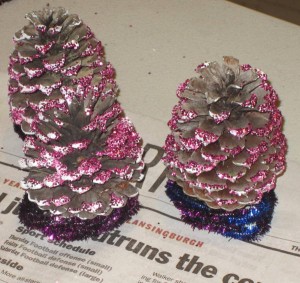 There were homemade beeswax candles. Kids cut little shapes with cookie cutters and put them on the candles.
The pomander balls were popular. If you've ever tried these, it's too difficult for kids to puncture oranges with the cloves themselves. On Saturday, they were poking the oranges first with giant push pins, which was a great idea.
At my station, I was doing wire ornaments again, bead-on-wire snowflakes that were leftover from last year's Crafty Girl party, and a bunch of pipe-cleaner-and-bead snowflakes.
Phew! We crafted ourselves into exhaustion. But these were all fun and satisfying.