Do you ever read one of those magazines and they'll say "So-and-so hosted a casual buffet with some neighbors and invited us to see her easy-breezy style"? And what follows is several pages of impossibly gorgeous spreads of food surrounded by distinctive and clever decor and people who look impeccable and beautiful in every way? And you think, "Who the hell hosts a party like that?" Well, once a year my big sister does with her Easter Egg Hunt and Lunch.  Here are some pictures:
Cute bunny adorning the dessert table.
Plenty of fresh flowers already planted (she's in New Jersey, so it's a bit warmer).
An Easter wreath. One decor tip I'm going to try to adopt is that she has all of her decorative wall hangings–like autumn and Christmas wreaths–hanging out in plain sight around her basement. It makes the storage area prettier and more cheerful, makes it more difficult to forget about seasonal decor, and frees up shelf space.
J insisted that I take a photograph of the deviled egg tray. She loved how her aunt fancied it up.
Hi from the girls, playing on the hammock.
Bunny ears for everyone!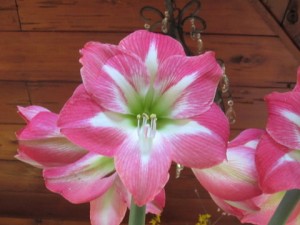 So pretty they look fake. But they're alive!
Frankly, I think the woman has a wreath fetish. But who can blame her? And I love this door, too.
What's a pile of asparagus without pansies?
More flowers!
Pretty again.
Pansy.
For the egg hunt, a plastic egg tried to blend in with the decorative eggs.
More egg hunt.
Another "hidden" egg.