We left on Sunday for our annual Jiminy Peak trip. We arrived in the late afternoon, enough time to hit the slopes before dinner. We were with a crowd, so when J ran out of steam, I brought her back to our hallway at the Country Inn for her to hang out with folks while I ran (okay, clumped) back outside. I never did manage to catch up to the group I'd left on the slopes, but just going up and down on my own was lovely.
And I was having a sort of skiing epiphany, because I was pondering (there was no one on the lift with me, after all) about the  après-ski experience and its splendor. It's not that sort of stereotypical, singles-drinking-by-the-fire-at-the-lodge-bar, although surely that has its moments. It's that everything after skiing is wonderful. You take off those ski boots and your feet sing their joy and gratitude. You peel off the top two layers and wander, unashamed, in incredibly cozy long underwear. You have been, perhaps, very cold, and the warmth of a fire is a revelation that makes you send up a prayer to Prometheus even though you live in a heated home every day without a second thought. You are starving and lo, someone has prepared something delicious to eat and to drink. It is glorious. I'm trying to figure out if there are other activities like that. Running a marathon, maybe? I've never done it.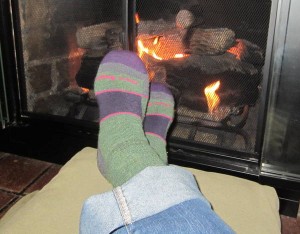 As I was skiing on Sunday night, folks at the building at the top of the mountain–is it a mountain guide or first aid station? Something like that–were grilling burgers, and it smelled so good and I was so hungry that I imagined I might exchange almost anything for a bite. Instead I kept skiing, and when I eventually stopped and headed to our room, I passed suite after suite of people who'd spent the day skiing and planned to spend the night watching the Superbowl. It was like Olfactory Paradise. I felt like Templeton the Rat at the fair in Charlotte's Web.
On Monday the girls headed to KidsRule Moutain Camp, and they both did great. M was exultant to graduate from "Blue" to "Black" level, and J was excited to learn to use her poles, finally. M and her friend were together with a young woman as their instructor, so they were ecstatic.  J was part of a group of five, and she thought her instructor was great, and the sweet guy seemed quite sincerely disappointed that she wouldn't be with him the next day, too. J skied with so much more confidence after her lesson it was amazing. So that was great. We all skied together after the afternoon pick-up, and then Cute W and I dragged ourselves out again after dinner to do some night skiing because we are crazy. It was way too much. On Tuesday we all spent the morning skiing together, but after lunch J and  I decided we were too wiped out to manage any more. I spent the next hour fretting that surely someone would end up injured because we  had exhausted ourselves, but thankfully, Cute W & M arrived back safe and sound.
Then on Tuesday night, I headed to Proctors for "American Idiot." It was completely amazing and I highly recommend it. I wrote a review for KidsOutAndAbout.com. Thursday is the last day for this show.