Posts from —
November 2011
Feel free to head right down to the fun weekend bullet points. But I've had a rough day and feel compelled to whine a bit first.
Both girls had homework crises before they even got out the door this morning.
I sat down to Google Reader to find that nutritional improvements to school lunches have been rolled back and some store in Colorado is selling children's crotchless underwear. So depressing and literally nausea-inducing.
Then the school nurse called–never a good thing–to report that J was quite itchy, and she suspected chicken pox (she's had the vaccine, but you can still get a mild case): come get her right away and get to the doctor ASAP.
Headed to the doctor, who couldn't rule out chicken pox definitively but thought it was more likely week-old flea bites (we found a few on Isis the cat a week ago, and apparently they can take a while to show up). The proverbial rock vs. hard place. Really, the doctor clearly thought that the school nurse was overly panicky and that whatever was going on didn't seem worth much fuss, except a little oatmeal bath and some Benadryl. By this time was J was cranky enough that I thought, gosh, maybe she really is sick. Of course I got home and we only had 6-years-to-grown-up Benadryl pills in the house, and at first I tried to get her to swallow one, which was a Massive Fail.  I gave up and bought the liquid version. I don't think either of my girls have ever had that stuff, and I can see that it would be dangerously tempting for parents of poor sleepers, because she passed out, like, immediately.
Then M and I settled into a math homework marathon session.
Cute W picked up dinner and a case of beer on the way home. Always nice to see him, tonight especially.
Here's what I've got for this weekend. I love additions in the comments if you've got them.
All Weekend:
Evening of Friday, November 18th:
Saturday, November 19th:
Sunday, November 20th:
And by "holiday," I don't mean Christmas. I mean the next important holiday coming up: Thanksgiving.
Last year I posted about our Thankful Tree. We love the Thankful Tree. For years, it's been a humble little construction paper-twig tree, like the original idea from Family Fun.
But this year, with that heavy snowfall, we had several branches just lounging all over our front yard. I couldn't resist an upgrade. And then the twig was so pretty that it seemed a shame to hang those cut-out construction paper leaves, and I remembered that I have one of those fake-leaf garlands. Because while I am not generally a shopper, I am a sucker for a craft store seasonal bargain bin. Voila:
The other day we received an unanticipated package. "A package!" both girls yelled, as their Psychic Possible Gift Perception kicked in. The return address was my mom, so the girls  clustered like cats around tuna while I gestured for space with my scissors. Dangerous but effective.
Look!
New scarves for me, M, and J! Yippee! Nothing like what my mom calls a "happy present!"
And here's the cutest part:
I mean, come on. How cute is that? "Nanahoney" is her grandmother name because she was planning for "Nana" but the first grandchild was confused because my Dad always refers to her as "Honey."
Everyone was quite excited and in fact I couldn't post about the scarves right away because J wore hers to sleep and I couldn't get a photo.
As for the more painful side of clothes, it's laundry. Sigh.
You know, summer means wet bathing suits and towels, but with the clothesline, the whole family is pretty well trained. And then the cool weather (and travel soccer) comes around and my hamper is full constantly. And it's full of things like:
Pairs of jeans that have been worn for only minutes before a wardrobe change
Footy pajamas that are pristine and smell pleasantly of fabric softener
Shin guards
As many as 6 sweaters at a time
Alright, so I walked right into the shin guard thing. Recently I discovered that with a baking soda scrub-down followed by a wash in the delicate cycle, even the most repugnant fumes can be squelched. But now M wants this treatment after each game or practice, and even if I were up for that, shin guards aren't designed for consistent washer abuse.
I have asked nicely, explained, reminded, and nagged. So I got a bit of a bee in my bonnet.
Usually these bees result in slightly overwrought essays. But this required something different: a flow chart. I found a free flowchart web site and set to work.
It occurred to me, sometime while I was trying to line up my arrows, that I might not be the only person who suffers from Laundry Challenges. So I made it generic enough to share, and TA, DA! It's a Laundry Flowchart! (I couldn't get it to show up on this post, but you can click to a pdf file. Update: Deb from Kids Out and About helped me, so now it's below–click for a close-up. Thanks, Deb!) It is not aesthetically perfect, but it does get the point across.
J loves the flowchart. She asked me to read it to her and explain exactly how it works. She appreciates it.
I taped it just outside the girls' rooms.
M hates the flowchart. She thinks it's humiliating and it's treating her like a baby and she knows what to do with all of her laundry (a "dammit" is unspoken, but implied, here).
In protest, M turned the flowchart backwards, facing the wall.
I fixed it, conceded that she would be permitted to turn it around during play dates, and explained that the one surefire way of getting rid of the flowchart was to demonstrate her vast laundry knowledge on a daily basis with appropriate disposal of the various items.  Her pair of pajamas lounging on the hall floor was offered as Exhibit A, and the discussion was closed.
Long night. Here's what I've got:
All Week:
Monday, November 14th:
Tuesday, November 15th:
Wednesday, November 16th:
Thursday, November 17th:
Friday, November 18th:
We've had a surprisingly low-key weekend, which has been a delight for the whole family, really. This morning I once again blew off a girl scout activity (I seem to have a mental block somehow, perhaps related to the scary scout leader I had that year who chased me away from the organization), and the fact that M made it at all was only thanks to a mother who has learned through experience that I have incompetent calendar management skills and took pity on me and called me.
There was leaf-raking, which, as long as it's not windy, is a satisfying and wholesome autumn activity. And a soccer game, in which M and her team were pummeled, but perhaps not pummeled quite as bloody as last week.
M has a friend spending the night, and M decided that the must-see movie for her friend was Bedknobs and Broomsticks, which, I'm sorry, but I see that as a parenting triumph. Even if it was a favorite of Cute W's, not mine, I can't help but feel pleased that instead of trying to push the envelope,  M's going with a musical starring Angela Lansbury that came out years before PG-13 was even invented.
Poor J does not have a friend over, but she did spend some quality time with another house guest:
This guy's crashing with us while his house gets flea-bombed. Did you hear that this year is one of the worst years that vets have seen for fleas? Fair warning.
Here are a few links I've gathered lately:
Check out this All Over Albany post about the LEGO® Building Challenge at the Albany Institute of History & Art. And guess what? I'm going to be judging for the Saturday afternoon session!
The Times Union's Parent to Parent blog had a recent post on advice for cloth diapering.
And Nippertown reports that James Taylor's going to be acting in The Colonial Theater's A Christmas Carol.
Hooray for a 3-day weekend! We thought that we were hosting a family get-together this weekend, but with sickness and last-minute scheduling conflicts, the plans fell through. We're sad not to see people, but it does leave us with what looks to be a surprisingly relaxing time ahead.
Here's the newsletter from Kids Out and About in case you haven't signed up yet. Along with plenty of stuff going on, there's Deb's review of a math cookbook and the tale of M's playground faux pas yesterday.
Here's what I've found. As always, I appreciate additions or corrections in the comments.
All Weekend:
Evening of Friday, November 11th:
Saturday, November 12th:
Sunday, November 13th:
With her most recent birthday, J received a cash box and a monthly allowance of $8. At our house, the kids do chores, but the allowance isn't "pay for chores." We give them an allowance out of the kindness of our hearts, in much the same way that we provide them with tasty food and cute clothing. Occasionally, for egregious behavior offenses, cash fines are imposed.
But they do have to be able to count and add up their money so that they can keep track of it. They get a little notebook to keep in the box, too. J can't do it alone yet, but we help her. She was so excited that she created little labels:
We don't do that whole divide-into-thirds to save/spend/donate. For donating, that tends to be clothes and toys that they've outgrown or that they receive new but think someone else might like better. In fact, in the last year or so they've become much better about letting things go, which is great, because it didn't always go so smoothly in the past. Savings-wise, they prefer to save quite a bit for a long time and then spend on something fabulous. M is a savings fanatic and J, who has less impulse control, tries to catch up with her.
Currently, in fact, I think M has well over $200 (this is from allowance, birthday money, etc.). She's saving up, she says, for an iPod touch. She's declared that it's the #1 item that she wants for Christmas, but she's saving her money because she fears that we won't come through for her. She's pining for a particular North Face jacket which costs $99, too. I just happily purchased her a new winter coat, but since she has plenty of jacket-like items that will provide the same amount of warmth as the North Face, I've told her that she needs to buy it herself or put it on the Christmas list. She also wants a new sleeping bag, saying that she's outgrown her kid's sleeping bag, but since Cute W and I never go on sleepovers, we just loan her ours. And the whole thing is ridiculous, because she currently has enough cash to buy any (although not all) of these items herself today. But this happens often: one of the girls will desperately need an item, and we'll say that we're not buying it but they're welcome to use their own money, and then it turns out that they only Desperately Needed it when they thought that maybe we'd buy it. They're much more willing to spend our money than their own.
So instead of sucking up and plunking down her own cash, M will spend the next month and a half sighing over the things that she Desperately Needs. To no avail, sister. Santa's not arriving until December 24th.
Sometimes my kids are just wonderful. They are kind and understanding to each other, and they run away to some corner of the house to, say, play school, and they come up occasionally to politely ask for help with a snack. When I have the requested snack in stock, they reward me with joyful shouts of "You're the best!" and "I love you, Mommy!" (Interesting statistic, here: 5 out of 6 of all "I love yous" that I received are directly related to proving nourishment. True.) On days like these, I appreciate the girls, but I often turn my attention to other tasks, and the success or failure of my day hinges on how much I accomplish.
On other days my children are dreadful and I try my best, but I lose it. The scenarios are similar each time. With M, she'll exhibit a relatively minor attitude problem (usually belittling J or acting snotty to me), and I'll call her on it, telling her to come sit down with me so that I can remind her about correct behavior. But instead of sucking it up and coming over and saying, "You're right, I'm sorry," she rolls her eyes, talks back, refuses to come over or to sit down, and continues being obnoxious until my mild annoyance escalates into red-hot anger and I send her to her room so that I won't beat her. With J, she'll cling, act helpless, or ask me for things using all hand gestures instead of words until the tone of my voice changes, just slightly, into the tone of a mother losing patience. Then she begins to sob and I try to reason with her that I'm really not mad, I'm just trying to help her, and she sobs more, and by that time I feel both angry and guilt-ridden for betraying that my patience with her is not, in fact, infinite.
And then, there are days like today.
Days when M sobs over long division and yells in frustration while J works on a project that includes leaves, glue, fabric, scissors, more glue, poster board, and googly eyes. Days when the two of them drop every article of clothing that they own in every single room in the common areas of our home. Days when they seem intent on making themselves, each other, and me as miserable as possible. And I go back and forth, correcting and calming M, coaching J on her spelling while deflecting M's critiques of J's spelling, and helping to control J's gooey artistic mess. All while enforcing the pick-up-your-crap rules, stepping in only when absolutely necessary to ensure sibling civility, and cooking a delicious dinner. And as the storms subside, I think to myself that I'm maintaining the demeanor of some kind of Amazing Zen Master.
And by the time Cute W gets home, he overhears, from upstairs, our wretched, snotty children and my responses, and he comes downstairs and tells me that I'm unbelievably patient and he even uses the word "Zen." And I am in an awesome mood. Because, sure, I love cuddling with my kids or celebrating milestones. But the times when I feel like a Super Mama are when my kids have been hideously awful for a sustained period of time, and I have remained calm and pleasant through it all. When we've weathered the storm and come through it unscathed.
It might be the best feeling in the entire world.
Hello! Well, first, this is super-long. Sorry. But I was looking around for information on this myself, and it was limited. So I threw in the details. Second, you might notice that I'm showing J's current face, which is unusual for me. Well, it's because 1) with her hair pulled back so severely she looks different from "real life" and 2) she's just so cute that I couldn't restrain myself. J approved, but M opted out of facial frontal.
Both Cute W and my sister-in-law had heard from coworkers that the Bibbidi Bobbidi Boutique was a must-do. Our niece is a devoted princess fan, so she was in for sure. At 9 and 7, my daughters have passed through their own princess stages;  M actively scorns princesses, and J is torn between liking them and thinking that they're too prissy and babyish. As feminist parents, we had gritted our teeth through the earlier princess infatuations, and we weren't too enthusiastic at the prospect of the boutique. But we liked the idea of embracing the Disney experience for what it is. Our girls had weathered the princess storm and sailed on to become confident, consumer-wary, girl-power advocates, and we knew that even with our vastly inferior budget, our parenting had already prevailed over Disney. We left the decision up to the girls, and in the grand tradition of children who are ever offered something expensive by their parents, they went with "Yes, please."
We (and by we, I mean Grandma and Grandpa!) purchased the deluxe or Castle Package for all three girls (our daughters and niece), along with a Knight Package for our young nephew. The Castle Package includes a princess dress with matching shoes, tiara, and wand, and a princess sash; spa services including a hairstyle, quick coat of nail polish, light make-up job, and general fawning; and a photo shoot of your little princess at the nearby Castle Couture (one 6" x 8" and four 4" x 6" photos). Details on the various Bibbidi Bobbidi Boutique packages and prices are available here.
The Magic Kingdom (there's also one at Downtown Disney) Bibbidi Bobbidi Boutique is in the rear of Cinderella's castle, just off a lovely little hallway with gothic-looking arches that burst from small sculptural vignettes of the helpful mice and other Cinderella characters. Mosaic scenes are lovely and worth a closer look, which of course every single child is simply too wound up to do. Waiting parents, however, might kill a few minutes that way.
We went, with appointments, on a Sunday afternoon. At that time, guests without a reservation weren't even permitted into the waiting room. A friendly young godmother-cum-bouncer stood at the door handing out informational brochures to visitors attracted by the crowds coming in and the sparkling little princesses fluttering out. At one point I saw a little girl staring sorrowfully through the doorway from her stroller. She was all decked out in her Belle outfit and tears coursed down her cheeks while her parents conferred with a godmother, who'd been pulled from the fray to speak their native language. After they were gently but firmly dismissed, the couple turned on each other and launched into a passionate argument, I assume over exactly who was responsible for breaking their daughter's heart by not knowing about this (now missed) opportunity.
Those of us fortunate enough to be admitted within the waiting area turned our attention to the racks of princess dresses and other princess paraphernalia. Girls make two big choices: first, they pick a princess ensemble and second, they choose from three possible hairstyles. This was a point that had confused me prior to the trip, because I saw the choices of "Fairytale Princess," "Disney Diva," and "Pop Princess," and I thought that these choices extended to wardrobe. After all, Disney is also well-known for stars like Vanessa Hudgens and Demi Lovato. My slightly-too-sophisticated-for-princesses daughters would have loved a hip little outfit like those worn on Wizards of Waverly Place. Nope. These are fairy godmothers, and fairy godmothers make princesses.
The princess costumes are all lovely, and one is available for each princess, although a princess fanatic might not see exactly what she wants. When my niece asked about Cinderella's wedding dress, the assisting fairy godmother broke character to explain that that one is "a Disney store exclusive." Whatever. My niece moved on and chose, like her young cousin, Tiana's dress. It is beautiful, with a sweet flower on the skirt and, of course, the princess brooch on the bodice, which my daughter wanted to remove immediately. She loved the dress, but she didn't want to be Tiana, she just wanted to be herself, extra pretty. M, meanwhile, chose Jasmine, which seems to be the choice of all the girls who might actually be too old to participate. With a separate top and pants, it had wonderful jangling coins but left more bare midriff than I would normally allow.
Once each girl chose her princess, she was presented with an outfit and the matching shoes, tiara, and wand that come with the outfit (there's no mixing-and-matching at the boutique). They're brought through the salon to a dressing room in the back, where usually mom and daughter will get the girl changed. In our case, we had three girls, two moms, and a grandma all ushered into the same dressing room. The room was generous for two, crowded and claustrophobic for six. But if you're sensitive to crowded, claustrophobic settings, I'd probably avoid Disney World altogether!
Dressed now, the girls again waited to be placed into a chair by their assigned fairy godmother. After carefully covering the new princess clothes, the fairy godmother asked for each girl's hairstyle choice. The options are:
Fairytale Princess: a sleek-looking classic bun with a small tiara & sparkly barrette.
Disney Diva: hair is placed in a bun, then a hairpiece is attached and teased mercilessly to make the hair look voluminous, then decorated with sparkly hair clips.
Pop Princess: hair is placed in a bun, then colorful branded hair extensions are added and decorated with sparkly hair clips.
Each hairstyle shares some basics, with hair all pulled up and away from the face tightly and sleeked into some variation of a bun with copious hair product and a generous sprinkling of glitter. On the other hand, the fairy godmothers are truly ingenious in their ability to take all varieties of hair and gel them into princess-worthy submission. The three girls in our party, for example, looked similar on first inspection, but each of their hair had been treated differently in order to achieve The Look. Both of my daughters chose the Fairytale Princess style, while our niece went with Disney Diva. My younger daughter J, with short, fine hair, had a lovely little basic bun, and the fairy godmother managed to shellac away the half-fringe of bangs that the 9-year-old cut a few months ago (I'm not even going into it; I'm still angry), while my older daughter's longer hair was ratted at some point (I missed that) to achieve a smooth fan-shaped bun, and our niece's thick hair was put into two kicky little braids that were coiled and hidden under the faux hair. While we were in the salon, I saw one girl with an enormous amount of humidity-frizzed hair that seemed challenging to any stylist, but when I saw her later, she was almost unrecognizably sleek.
Our niece's Disney Diva, J's Fairytale Princess from the rear to show off the Mickey barrette, M's fan-shaped Fairytale Princess with tiara:



 I'm torn, here, between appreciating the fairy godmother-stylists' skills and wishing that becoming a princess didn't mean taking what is unique about each child and reshaping it into an identical model. The fairy godmothers are friendly and sweet, but they're not flexible. J preferred a cross between Fairytale Princess and Disney Diva (really, she wanted Disney Diva without the fake hair), but that was not an option. M said "No thank you" to the sparkly gem stickers for her cheek a few times before sighing and permitting the persistent godmother to stick them on. Our nephew was insistent: "NO MICKEYS!!" when a fairy godmother offered up some Mickey hair confetti (who knew that such an item existed?), but before his parents noticed and could stop her, she painted a red Mickey on the back of his hair. When he saw he protested. Meanwhile the fairy godmother explained that the red Mickey would be wet and smeary for an hour until it dried. We were baffled that someone would put wet paint on a young boy's head when he was clearly going to be posing for pictures with beautiful princesses in expensive dresses. A lethal combination.
In spite of these minor issues, all three girls enjoyed themselves and would recommend the Bibbidi Bobbidi Boutique to friends. During the hair styling process, each fairy godmother engages her protégé in princess patter, chatting about the other princesses who come there and quizzing the girls on their princess knowledge. For a girl deep in the throes of princess love, this would be thrilling, but M looked blank when she was asked about her monkey friend, and when J was asked if she could guess each princess's tiara, she was stumped until the godmother dropped hints. While hair is being done, roaming fairy godmothers come to apply make-up (light and not bad at all) and a coat of sparkly nail polish. The method is brilliant, because it allows the Disney folks to multi-task while the effect for each girl is that she is fawned over as if she were the center of attention even when it's happening simultaneously to several other girls. Our girls were thrilled with the process. They were pampered and coddled, and they loved every minute of it. The styling occurs with the girls facing away from the mirrors and out toward their waiting families, leading to the stunning "reveal" moment when the girls are turned to see how they look. Even our sophisticated 9-year-old beamed pure joy as her fairy godmother said a little spell over her head before turning her to the mirror. They were all delighted with their princess-y reflections.
Our preschooler knight received a quick styling that gave him a bit of attention along with a nice quality foam sword and shield.
Then it was a short walk over to Castle Couture for a photo shoot. Here the 9-year-old balked. M said that her hair was "too tight," but the real problem was walking out into the park—necessary to get to Castle Couture—in costume. Immediately after posing for pictures she and I hightailed it to the restrooms for a costume change. M wanted to ditch the tiara, too, but when I told her that I had no idea how to pull it out without mussing all of her hair, she reconsidered and retained the Fairytale Princess bun. The younger girls, meanwhile, pranced all the way to Akershus Royal Banquet Hall in Epcot's Norway to dine with other princesses. Many girls keep their hair—and even their outfits—intact for the remainder of vacation. Our daughters woke the next morning in despair over the stickiness and tightness of their hair, and I was relieved when it washed out so quickly and easily.
So, is Bibbidi Bobbidi Boutique "worth it"?
The Coach Package costs about $50 for hairstyling and make-up, while the Crown Package costs about $55 for hairstyling, make-up, and nails. Under normal circumstances, I'd never agree to spend $50 per daughter in a salon. And if I did, I'd expect individualized service that took my girls' preferences and hair types into account to make them look their personal best. On the other hand, anywhere else would not include a castle setting and genuine fairy godmothers. So it's your own judgment call. As for upgrading to Crown, you'll be paying $5 for a coat of nail polish and the remainder of that bottle of polish, which your princess will take home with her.
How about the $190 Castle Package? Are the extras that you get—a complete costume and a photo package—worth the extra $135? After we visited the boutique, I found the same costumes and accessories at a gift shop at Epcot, and individual retail prices for the items were: $65 for the dress/outfit, $18 for a crown, $20 for a scepter, and $25-30 for a pair of shoes, or about $128 to $133 for the complete outfit. On top of the outfit, there's the photo shoot and five printed photos. In other words, if you're willing to drop $65 for a beautiful princess dress, then it's worth your money to do it all. On the other hand, will your daughter actually recognize the difference in quality between a $20 dress and a $65 dress? Nope, and you could easily bring your own outfit and surprise her, and she'd still feel like a fabulous princess. For us, part of the joy was sharing it with our cousins and Grandma, so of course that's priceless. Or, as long as Grandma thinks it's priceless, in the grand tradition from the first paragraph, I'll say yes please.
Interestingly, I wasn't able to locate most of these outfits on the internet for comparison shopping. I did, however find a few of the accessories that the girls received, including the Tiana light-up wand, the Tiana crown, and the Jasmine light-up wand at Your WDW Store and the Jasmine slippers elsewhere. In all cases the prices were equal or slightly greater than those I found in-store. Along with these "official" activities, the girls go home with hair accessories and their leftover make-up and nail polish. I set out some of the girls' take-home items so that you could get a look. The first picture is the portraits and goody bag contents, then the nail polish and make-up for each girl, then a collection of hair accessories and sparkly stickers: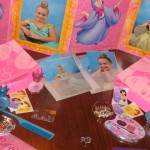 Another point to consider is that, while you can avoid  Disney Quest or the water parks if you don't plan to pay for them, it's tough to avoid all those fancy-dressed, slick-haired princesses walking all over Disney World. So if you're not going to do Bibbidi Bobbidi Boutique, it's worth pondering your response to kids' inquiries ahead of time so that you can deflect the kids with minimal drama.
Bottom line?  If you have a daughter who's 3 to 6 years old and a princess fanatic, I'd do it. She'll love it. Older girls should consider whether they'd be comfortable walking around as a Disney princess.
Suggestions if you plan to visit the Bibbidi Bobbidi Boutique:
Book an appointment as soon as you can, and remember that it's Disney World, so even with reservations you might end up waiting. I'd shoot for late morning on a day when you'll be dining with princesses as ideal timing. Many girls will keep their princess hair for days if allowed, so ponder if you'd like her to enjoy it all week, or save it for the end so that earlier than that she can literally and figuratively let her hair down.
Bring along comfortable-but-pretty shoes or dressy socks, because most of the shoes are not comfortable (Jasmine's were the best, comfort-wise, that we saw). We met one family who'd purchased gorgeous, glittery sneakers to go along with the princess outfits, a great compromise.
Some have heard that you need to bring your own brush, but that's not true. In fact, the comb, make up, and nail polish are tucked into a little goody bag that the girls will take with them when they leave.
Bring your own dress if you'd like to save money or if your child has an absolute favorite that she's had her eye on. Choices at the boutique are lovely but limited.
Disney photographers are on hand to capture every important moment, so if you're planning to purchase photos later, relax and skip taking pictures yourself.
Waiting is crowded and boring, so it's a good idea to split up. Suggest to the princess-to-be that it would be fun to surprise Daddy/Big Sister/Little Brother and shoo them away immediately. Ask the fairy godmother to alert you when the "big reveal" moment is coming so that you can call them and summon them back to the salon in time.
Here's what I've found for this week:
Monday, November 7th:
Tuesday, November 8th:
Wednesday, November 9th:
Thursday, November 10th:
Friday, November 11th: